Gearing up for the big 6-0
Sailing Together 60 Years Later
2017 marks the 60th Anniversary of the Lido 14 Class Association and everyone is pumped! This summer BYC will be co-hosting the 60th running of the Lido 14 Class Champs, August, the 11 thru 13.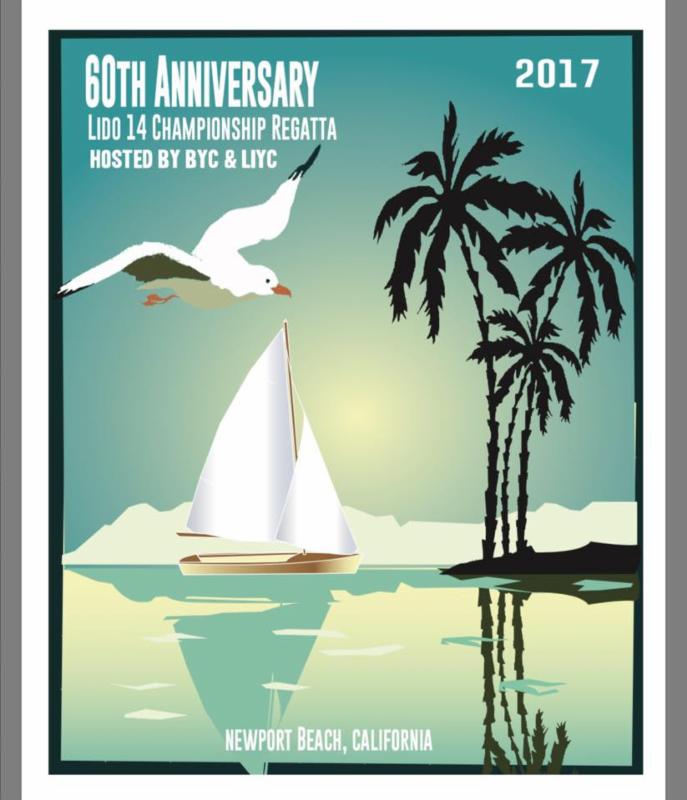 These sailors have a long history of family friendly and fun events. Another time-honored Lido sailor favorite is the Harry Wood Memorial Regatta.
It's exciting to see a boat, which was designed, built and named after Lido Island still out sailing. It can be said that the Lido 14 class kicked off the era of modern sailing.
The first Harry Wood Regatta took place in 1978. As the story goes, there was a regatta in Huntington Harbor that had a Grand Master division for skippers over 50 years of age. Al Perez, a Lido 14 sailor in Fleet 1, liked it so much and suggested to Harry that a Grand Master division should be added to the Harry Wood Regatta. Harry loved this idea! Over the years, the age limit for the Grand Master division has been raised to where it stands today - open to all competitors aged 60 and over.
Harry Wood was a Lifeguard in Long Beach He began his career in the 1940's and served for over 30 years. He was inducted into the Long Beach Lifeguard Hall of Fame in 1996. Harry was a fantastic sailor. He was the Lido 14 National Class Champion three times - in 1962, 1965 and 1967. He was also the National Champion in Skimmers, P Cats, Malibu Outriggers, and PCs and was invited to try out for the Olympics in the Finn class.
Harry would tow his Lido all over the country behind his white 1959 Mercedes 220S and the comment that was often heard when he pulled up was "Well, it looks like we're racing for second place again". This is why you will see his car parked in the parking lot when we host the Harry Wood it is a fitting tribute to a great man.
Harry was a very laid back sailor, easy going, never yelling and always smoking his trademark white pipe. He was the classic sportsman, very helpful to fellow racers, and just sailed fast.
Harry lived on Bayshore Avenue in Belmont Shore and when he wasn't sailing or lifeguarding, he was running Woodies Goodies, a beach hamburger stand. This was next to the original location of Alamitos Bay Yacht Club, now the site of Leeway Sailing Center.
The Idea for the regatta can be traced back to the late 1970's when Harry started to have health problems and was diagnosed with cancer. Things looked pretty grim and the Lido 14 group felt they should have a regatta named for him, not only for his sailing achievements but also for his sportsmanship. In support of this, Balboa Yacht Club decided to change the name of their Lido 14 Fleet 1 Open Regatta, an event that commenced in 1968 to the Harry Wood Regatta.
Harry felt very honored to have the Balboa Yacht Club rename a regatta after him and even after he stopped racing, he always attended the trophy presentation. After Harry passed away in 1999, Barry Wood continued to promote the event in honor of his father. Both Barry and his two daughters, Andrea and Heather Wood, have sailed in the regatta and won the Grand Master division several times.
The regatta name was subsequently changed to the Harry Wood Memorial Regatta.
For me it is a special honor to play it forward and to be the regatta chair for the Harry Wood. As a kid I grew up sailing at Leeway and would save my pennies and walk over to Woody's Goody's to get a treat. When I was in high school I was able to race with Gib Marshall on his Catalina 38 where I did foredeck and perfected the "out of hatch" kite hoist which I gained from sailing an Assie 18 off the beach while at Leeway. It was great as the guy trimming was Rod Davis, who himself went off to do some great things.
It is great to bring Lido sailors young and old and from far and near together for this annual event, which BYC co hosts with the Wood Family.
This year BYC also hosted the Lido 14 district champs in conjunction with the Harry Wood. We had 21 competitors and sailed in two divisions. The winner of the A fleet and Lido Districts was BYC's Porter Killian, with his crew Tori Thompson, Winner of the Grand Masters Trophy was none only but our own Beck Lenhart's father Jeff and his crew Chuck Ullman, and winner of the B fleet was BYC member Greg Boudreaux ad Susie Mulcaire.
Everyone was so excited to reunite and get back out on the water. Lido Family gatherings are always such a fun and relaxing time.
The main event of the season is still yet to come. Class Championships 60th Anniversary is August 11-13. Help us make history and enjoy an amazing weekend with your fellow Lido lovers. Our aim is 60 boats for 60 years, and to blow the 50th anniversary out of the water. Sign up NOW!
Written by Walter Johnson, edited by W.D. Schock Corp.