Daysailing in 18 Knots
Schock 40s have a reputation for being performance racing boats. They also make for a high speed daysailer to hang out with some friends and enjoy life on the water.
Not to mention that the side rail offers an awesome view.
This group of friends enjoyed having a dance party on the transom while daysailing around the Farallons in San Francisco. There's nothing like cold drinks, hip music, and an ocean breeze to get the party started. This crew certainly worked up their dancing moves.
What better place to dance than on the open transom of Schock 40, Golden Gate behind you, sunshine, and blue skies all around, and the Wine Dark Pacific rushing beneath those happy feet ?
After a warm day around the bay, everyone took turns jumping into the brisk water.

The canting keel did the heavy lifting, freeing crew members to swing from the halyards and let loose.

Icy bay water keeps the blood pumping after an exciting daysail.
These athletes showed off their Tarzan swinging skills while leaping from the bow. Schock 40 sailing is an adrenaline pumping, enlivening experience that is perfect for igniting a passion for sailing.
With a proven record as a performance racer, some may find it surprising how well the Schock 40 doubles as a party boat. As fun as it is to sail, don't underestimate how amazing this boat is, because it's packing serious speed.

PERFORMANCE
"A few last thoughts would be that Kathleen has said this boat was her favorite. We found the boat easy to sail, very fast off the wind, motored well and in general very much lived up to its billing as being fast and be able to be sailed with a lot less crew."
Owners love their Schock 40
A Schock 40 can race from Long Beach to Hawaii in 10 short days. The canting keel and twin foil technology combined with a canoe hull shape gives this boat an edge.
The acceleration and performance of the Schock 40 is jaw dropping. This system has been tested and proven on the racecourse for nearly 15 years of successful sailing and racing. The Schock 40 is a greyhound racing among elephants.
"I remember watching the Schock 40 walk away from everybody on one coastal race. They were literally over the horizon in about 4 hours."
"We briefly considered the J125, but after seeing the performance of the boat up on the bay, which by the way was loaded with pro's, it was clear that the boats were somewhat close in performance upwind. But the Schock 40 steadily pulled away down wind. The choice was obvious after sailing the Schock 40 for an afternoon that this was the boat for us. We never bothered going up to San Francisco to sail the J125, the decision was academic."
-J. and N. Schock 40 Owners
The so-called skimming dish form is currently fashionable and is a proven solution for specific conditions. However, as Wild Oats so aptly demonstrated, the canoe form provides the best all around solution for racing boats.
A Barracuda is always faster than a Flounder.


Wild Oats was a direct copy of the Schock 40 when she was first launched. The Schock 40 epitomizes the canoe form favoured by the fastest fish. Both Wild Oats the Shock 40s continue to win big races.
This performance racer is rock solid and cuts through the water at amazingly fast speeds, routinely exceeding 20 knots and sometimes exceeding 35 knots. Schock 40 sailors have a great time skipping past the competitors.
Still the fastest 40' on the water, the Schock 40 continues to wow competitive sailors everywhere.
Leverage ripping it up


This baby is perfect for those seeking an adrenaline rush with wind whipping through your hair and a brisk spray on your face. Hitting 30 + knots is an absolutely exhilarating experience.
"I...garnered my personal helming speed record that night at 29.9. i've never gone faster even having spent 3 seasons now on a TP52 offshore.
The pedigree of the design is hard to argue with when you consider what's followed. if you're up for a bit of labor with today's prices you couldn't buy more value in fun. if you think you'll get one and put it on the course on the cheap without consulting someone who'll give you some straight dope then please don't."
A Proud Schock 40 Owner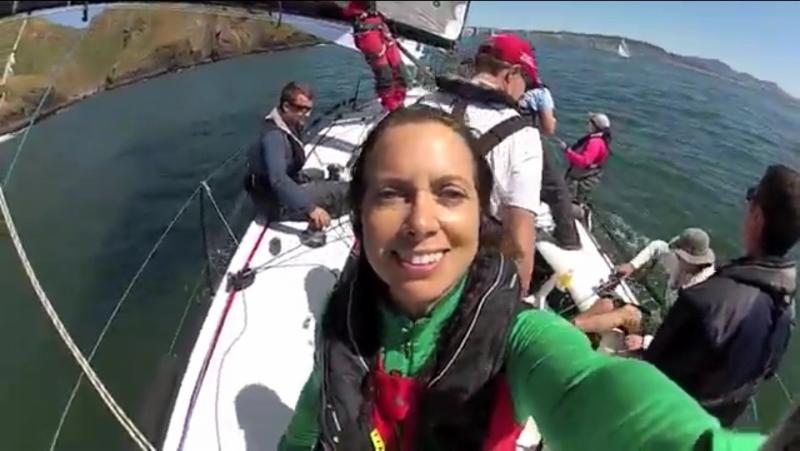 Sailing is the perfect activity to bring people closer together through teamwork and endurance, forging strong bonds among the crew. Whether you're partying with your friends at the docks, or flaunting your skills in high stakes regattas, the Schock 40 is a great choice for the serious sailor.

The first meticulously executed Schock 40 has recently been acquired by the factory. We have an exclusive offering for a select group of potential owners.
This boat is an extraordinary performer, sure to ignite passion within any sailor's soul. If you think you have what it takes to be the second owner of this fine vessel, please email sales@wdschock.com com for more information.Dance parties at the dock are a great reward for a day well-sailed.
These sailor gals have an awesome time cooling off after a daysail in San Francisco.


Party in San Francisco Bay (VIDEO)